Story
In Elly, players take the role of E114, a 5 year project conducted by the Psychic Experimentation Division (PED) of Next-Gen Labs. The PED has been illegally researching the effects of biotic mutations on human slaves in an effort to create the ultimate assassins. Everything seems to be running smoothly until a sudden explosion rocks the facility...
E114 awakes in a daze to blaring sirens and a mysterious voice in her head. Lying in a shallow pool of water and surrounded by shattered glass, she can't seem to remember how she got there or who she is. "This is your sister. You can trust me," claims the voice. "Now get out of here! The guards are coming..." Left with no other options, E114 blindly follows the voice of this sister she can't seem to remember.

E114
Purchased at the age of 12, E114 was wiped of her memories and biotically enhanced by the PED. E114 was designed to kill with her mind alone, but she lacks any formal training and her abilities are limited. During her time at Next-Gen Labs she has developed a deep hatred of the facility and people working there.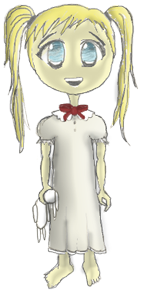 L15A
A mysterious girl who helps E114 escape from Next-Gen Labs. L15A is able to communicate telepathically with E114 and hack the facility's security system. Contained in a maximum security cell somewhere in the facility, L15A is relying desperately on E114 to save her.